COVID 19 PRECAUTIONS:  Limited appointments, limited entry in the studio, no mask no tattoo policy, sanitization, body temperature and oxygen level check at entry point, pre and post tattoo studio sanitization.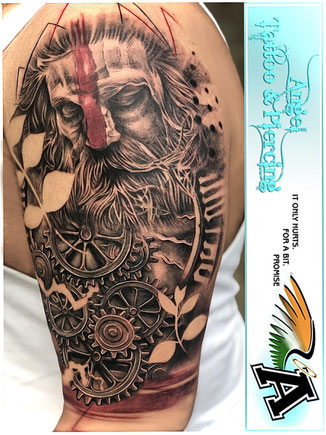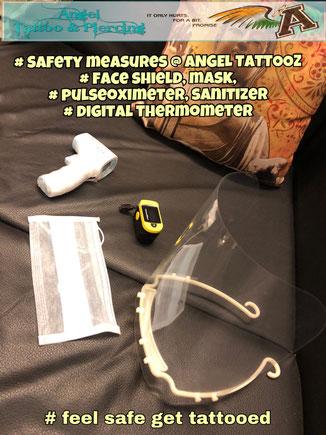 ---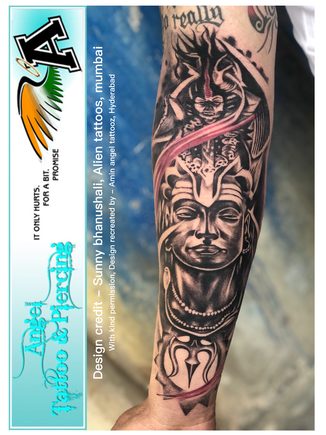 ---
---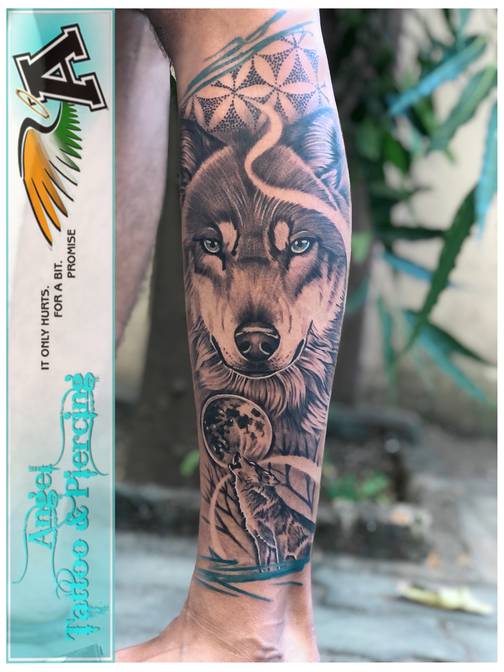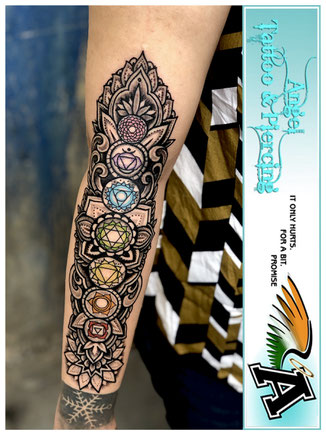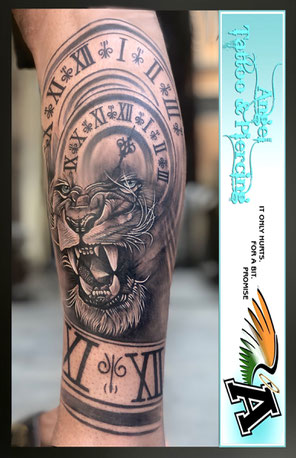 ---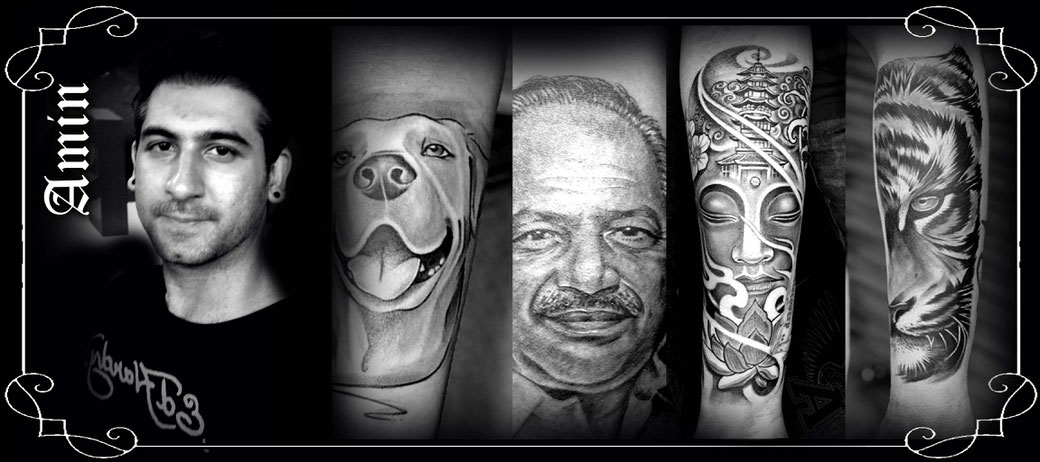 Our 1st artist, Born in Mumbai and brought up in Hyderabad, Amin has a degree in Business Management but arts won him over. Every free period in school saw Amin turning time to practice sketching, drawing and creating fictional characters from scratch. This fuelled his desire to turn it into an artistic career. His love for art took him down the road of cartoons and animated movies where he worked for over 7 years in both national and international projects like Cartoon Network and Pogo television channels to name a few.
Tattooing was not something he planned to do but with time it became his second love after animation. In the early 2007's he started as a freelancer inking people who believed in his abilities even back then. And in 2011 Angel Tattoo and Piercing Studio was born. With almost 10+ years of experience, Amin is one of the finest and topmost/ best tattoo artists in Hyderabad / secunderabad and PAN India.
---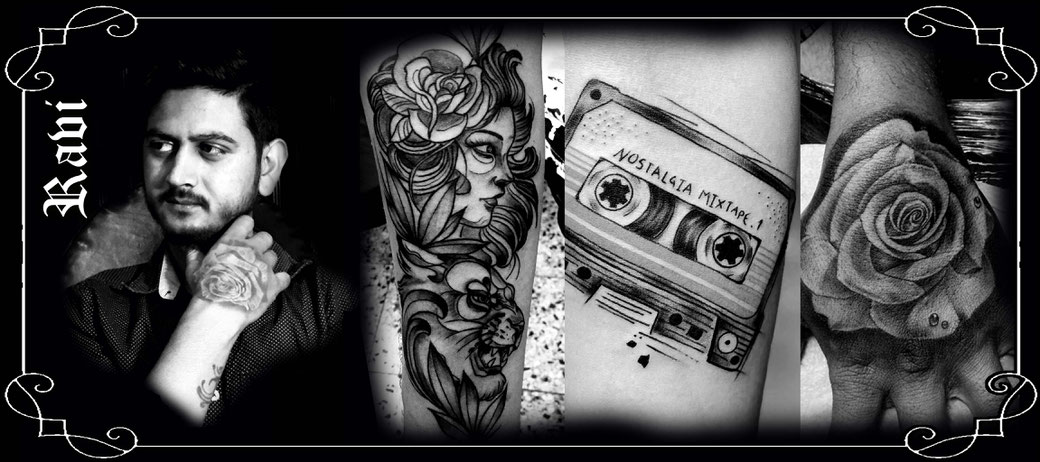 Ravi is our 2nd fine tattoo artist at Angel Tattoo and Piercing Studio. Born and brought up in a small town of Jharkhand, Ravi was not the regular lot of kids. While other kids picked up the regular career choices of becoming an engineer or business management, Ravi always wanted to be different and so after pursuing his formal education Ravi moved on to Delhi to pursue a career in tattooing as he was very passionate about arts. At a very young age of 18yrs he joined KDs tattoo learning school in 2011 and after successful completion of his course Ravi moved to hyderabad to make a more prominent mark in the tattoo industry. After freelancing for a couple of months Ravi found Angel's or should we say Angel's found him.
Through his dedication, hard work and an experience of 8+ yrs , Ravi has become one of the finest tattoo artist in the industry and is known for his clean, neat, smooth and crisp line work and shading.  As we guess Ravi is the only tattoo artist in the entire Jharkhand and one of the best tattoo artist in hyderabad & secunderabad. 
---
Alif is the 3rd and the youngest of all the artists at Angel's. Alif is smart, creative, self taught and a born artist. He studied at a boarding school and had a very rough beginning, but all of this only made him stronger, responsible and more focused in life. He used to do events, wall graffiti, canvas paintings, and many other creative form of art. Becoming a tattoo artist was not planned for him but as life happened so did tattooing. He started following youtube videos and his instincts to  start of as a free lance tattoo artist at a very young age of 17yrs. Later Angel's found him and now he has bin with us for almost 3yrs adding to his total experience of 5yrs in tattoo industry. 
Even now he is pursuing a formal college education in fine arts and manages work, education and supports his family very well. Though his experience as a tattoo artist is less, but his work says other wise and he is one of the finest tattoo artist u can find in the state whoz work is as fine ad smooth as butter. Alif is also one of the best tattoo artist in hyderabad and secunderabad.
---
---
Angel Tattoo & piercing studio was set up in the year 2011, since then the studio renders the best of service, hygeine, quality, hospitality, safety, professionalism and price. All the artists at the studio have more than 5 yrs of minimum experience. Since the last 10yrs the studio has bin able to maintain the same top spot in the state of Telangana as well as is considered to be be one of the best and reputed tattoo studio in india as well. The artists at the studio have also won awards at various national and international tattoo competitions. With good ratings and genuine reviews on google, facebook, instagram and justdial, the studio has always strived to maintain the best of equipment, inks, needles and machines so as to make the entire tattoo or piercing procedure as safe and painless as possible. We take utmost care to maintain a professional environment and try to consult and give the client the best tattoo design he/she may desire. Our tattoo studio has bin trusted by surgeons, doctors, international athletes like Jwala gutta , movie stars like actor Harshwardhan rane, actress  Rojagaru, DIGP Mr Akun Sabharwal, IAS officer Mrs Smitha Sabharwal, fashion designer Mr Anand Kabra and many more. 
---
Sonal jaiswal (Thursday, 11 August 2016 13:54
Paramjit Nayak (Sunday, 19 February 2017 12:34)
Akshaya (Thursday, 22 February 2018 07:30
Anamika (Friday, 05 April 2019 07:03)
---
At angels, we also provide laser tattoo removal service with best in class ND YAG machine for best results in fewer sessions and less trauma to the skin. For more information please check the "laser tattoo removal" category in the menu.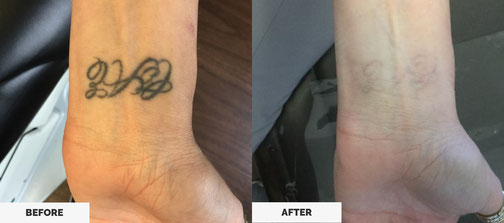 ---
Please like, share and subscribe
---
Name: Angel Tattoo & Piercing Studio
Street : Devaki chambers, shop no 15, opp hdfc bank, near            paradise
City/ZIP : secunderabad 500003
Email: aminsangels@gmail.com
Telephone: +91 9642033248 / 9032389335

---